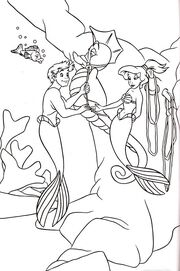 Dylan is Arista's love interest in the coloring book, Arista's New Boyfriend.
Overview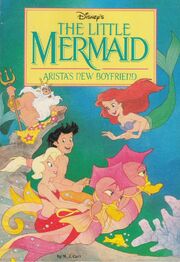 Arista takes the spotlight in this, her own story. It's summer in Atlantica and King Triton is taking his daughters to the summer palace where they're to mingle with other undersea aristocrats. The other princesses are excited, especially at the prospect of meeting merboys, but Arista is bummed out because she'd hoped to go riding with her favorite sea-horse.
As it so happens, Arista does befriend a merboy at the summer palace: Dylan, a stable boy who is helping manage the royal sea-horse stables. The two are quickly taken with each other and a summer romance blooms. Arista, however, is conscious of the class divide between them and is reluctant to tell anyone about him. She especially believes that Triton would never approve, and hijinks ensue when Triton orders Arista to entertain the son of an earl. Of course, Triton is way accepting than Arista fears, and she's glad to be proven wrong.